Givealittle is a great place for fundraise for someone else, you can set up a page that you manage but the funds go directly to the person you are fundraising for. This gives donors a lot of confidence that there money will quickly get to where it well help, and we take care of all the financial admin so you can just focus on getting the message out and connecting with donors.
Before creating a page on behalf of someone else we ask that you first get their permission.
We always encourage that funds are paid directly to the beneficiary. In order to be able to receive funds, the person must be 18 or older and able to provide photo ID. If the person you are fundraising for is under the age of 18, we encourage their guardian to act as the person receiving the funds.
To set up a page
Go to Raise Funds and complete the required details. If you already have an account on Givealittle its faster to log in.
Under Your Details, select that this is your own account.

Under Beneficiary Details, select that the funds will be received by Someone else's account. Confirm who will be benefiting from the funds and that you have permission to fundraise on their behalf.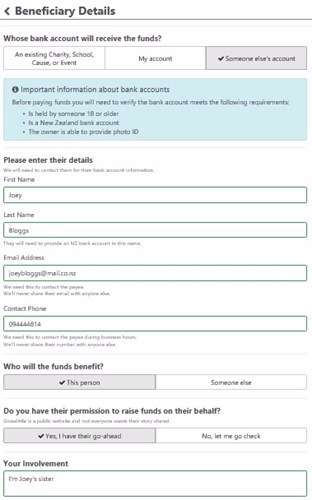 Continue completing the rest of the sections.
You can click Save for Later to come back to the page at any time. Once you're ready for the page to go live, hit Publish.
Raise Funds