Use this link to access Footprint and qualify for a 50% discount (with no obligation to leave a charitable donation, and Givealittle does not take a fee at any point of this process)
FFootprint are an online Will provider with a focus on improving financial literacy and helping change the perception that Wills are about retirement. Their aim is to drive a behaviour change that results in more people getting their Wills earlier in life - to protect what matters.
The Footprint experience was designed to meet the growing needs and expectations of those who prefer to connect via digital channels, look for products and services that provide a lifetime of value, and want to engage with companies that believe in giving back.
Research has shown that gifting in Wills has the potential to make a real difference to NZ Charities, with some reporting it represents 30% of their total income.
Many New Zealanders use bequests in their wills to support causes or organisations they care about, and our collaboration with Footprint aims to help our users (and your donors) keep the good stuff going by providing the opportunity to leave a legacy gift to charity, and create a discounted Will on Footprint.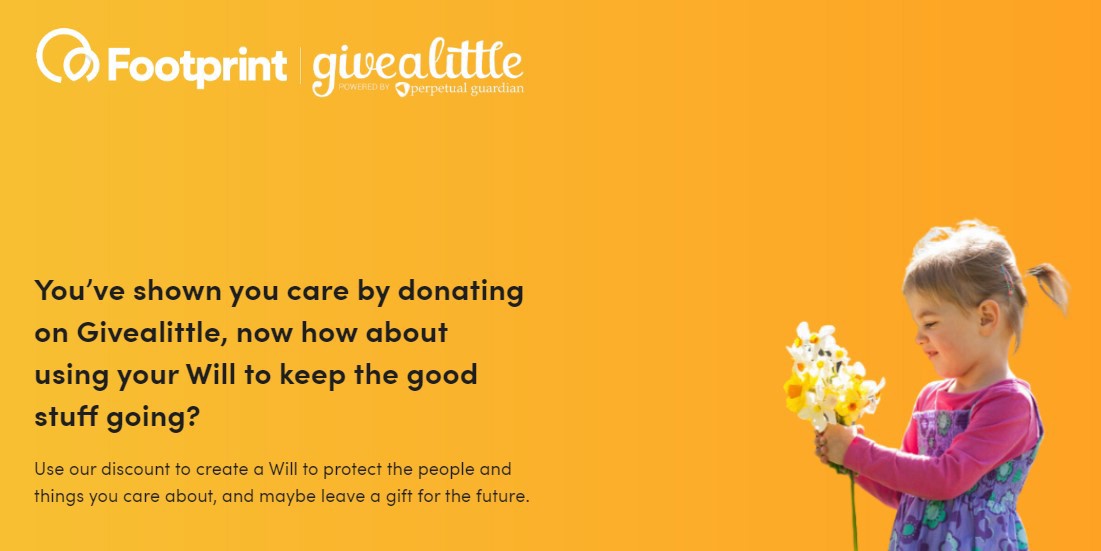 Leaving a lasting legacy
Everyday giving is great, but when creating our Wills, we have an opportunity to shape our legacy and make a lasting impact on causes that matter to us. One powerful way to do this is by including a gift to a charity - often referred to as a charitable bequest. Leaving a portion of our estate to a charitable organisation extends our generosity beyond our lifetime.
Some good reasons to consider this may be to:
Sustain your values and passions - Continue supporting the causes you hold dear, even after you're gone.
Make a significant impact - By leaving a bequest you can make a substantial contribution to a charity's mission. Your gift, combined with those of others, can bring about transformative change and address large scale challenges.
Leave a legacy of kindness - Including a bequest in your Will demonstrates to your loved ones the importance of giving back, inspiring future generations to continue supporting charitable causes.
Simplify things for those left behind - Leaving a clear expression of what you want to happen via your Will makes it easy for your intentions to be followed, and gives you peace of mind that your wishes will be carried out.
Givealittle's collaboration with Footprint allows us to offer you a 50% discount on the cost of a Will. You don't have to leave a bequest to charity in your Will, it's just a suggestion we think is worth considering.
The Footprint platform will guide you through the process of creating your Will using their easy to use question and answer template. On average, it only takes 15 minutes to complete a Footprint Will.
The Footprint team are available to answer any questions you may have along the way.
If you have more complex needs (e.g. if a trust or jointly owned property is involved) Footprint will refer you on to other lawyers for a more in-depth conversation.
Leaving a gift in your Will
One of the steps to create you Will is a "Gifts of Significance" section. Here you can search for any charity on the NZ Charities Register and leave them a gift (also know as a bequest). You can give as little or as much as you like and you can give to multiple charities.


Will the charity know a gift entry has been made in your Will?
When you leave a bequest Footprint will ask if it's OK for them let the charity know about your intention to leave a gift.
Charities often like to know so that they can thank you directly, it's also a big vote of confidence for them to know that people appreciate and value what they do, but letting them know your intention to leave a gift is entirely up to you.
---
Using this link to qualify for a 50% discount on your Will (with no obligation to leave a charitable donation)