If you need a certain amount of money to get an idea or solution off the ground, or want to set a goal to motivate donors, Givealittle gives you the ability to set a fundraising goal.
Go to Raise Funds at the top of the page and then complete the required details.
Under Goal, select the option I have a target amount I'm aiming for. Enter the target amount.
This goal can be an aspiration, in which case you still want the funds even if the goal is not reached; or it may be a hard target and you can't proceed if the goal is not met.
If you'd like to receive whatever funds are raised even if the goal has not been met, select Every dollar counts.
If you select All-or-nothing you will not receive funds unless the page reaches its target before your page closes - in this case donors will make Pledges, which will only be deducted from their credit card if you reach your funding target by the deadline you've set. (This option is only suitable if you are fundraising for yourself or your organisation as pages that pay funds to someone else cannot receive Pledges.)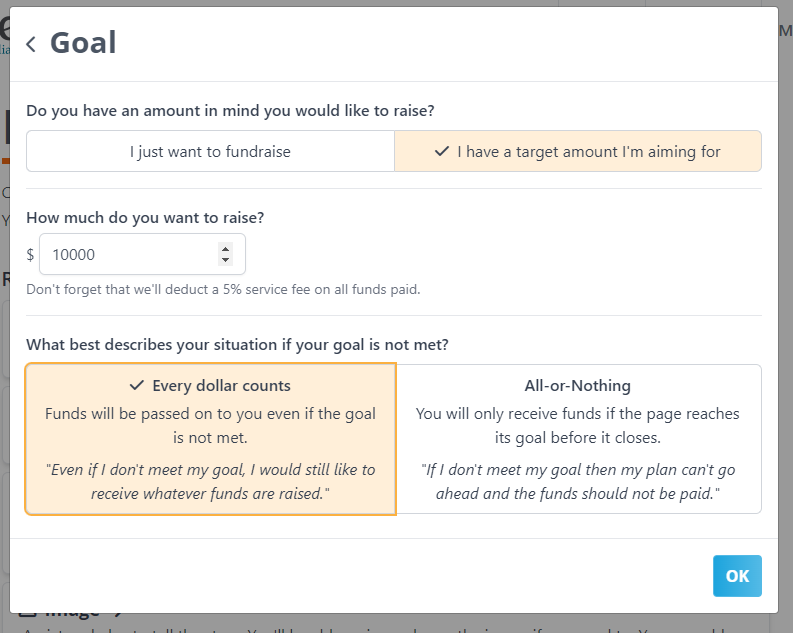 Continue completing the rest of the sections.
You can click Save for Later to come back to the page at any time. Once you're ready for the page to go live, hit Publish