(This article explains explains how to fill out a specific section on the Verification screen. General instructions on accessing and using the screen are available here. For information on who we need to verify, and why, check out this article.)
When you completed the Identification Verification screen for Electronic Verification, you were asked to enter key information off your NZ Drivers License or Passport.
We now need you to take a photo of yourself holding the document, to prove that it's yours and in your possession.
---
Taking the photos
First of all, you'll need to be using a device with a selfie camera. This could either be a smartphone, a tablet, or a laptop with a webcam. If you don't own any of these then ask a friend or family member if you can use theirs.
You'll also need to have your photo ID document on hand. It should be the same one that you used on the Identification screen.
When you're ready, open the "Photographic Proof" screen and click "Now is Good". Click the blue "Take Photos" button.
At this point you will be taken away from the Givealittle site. We use a company called Verifi Cloudcheck to guide you through the process and to take the photos.
When you're done, they'll bring you back to the Givealittle site and send us the photos.
Don't forget to finish the other sections on the screen and to click "Submit".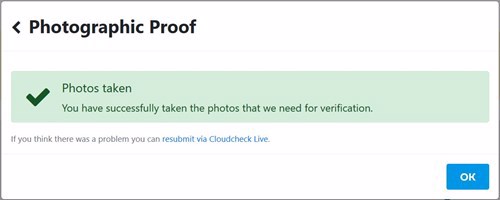 Photography Tips
There is no need to do your hair or practice your best 'blue steel' pose. A natural photo is the best one. More important is the location - try and do it somewhere with good lighting and, ideally, against a fairly plain background.
The most important photo is the one of your ID document. If it is too blurry/dark/washed-out/etc, and you can't read the text on the it, then we probably can't either, and we'll need you to do it again. Some people find it easier to put their document on a flat surface and use the rear-facing camera of their phone/tablet.
---
Doing it later
Don't have access to a camera-enabled device right now, or you've misplaced your license? That's fine, you can put off the photographs until a later date. Just go to the Photographic Proof screen and choose "Ask Me Later". We'll send you a reminder email in a couple of weeks, just in case you forget.
It should be noted that the photographic proof is a key part of our AML/CFT process, and we can't pay out funds until it's complete.
---
What if I can't take photos?
We accept that in some rare circumstances, you won't be able to take the photos. If this applies to you then open the "Photographic Proof" section and choose "I can't do this".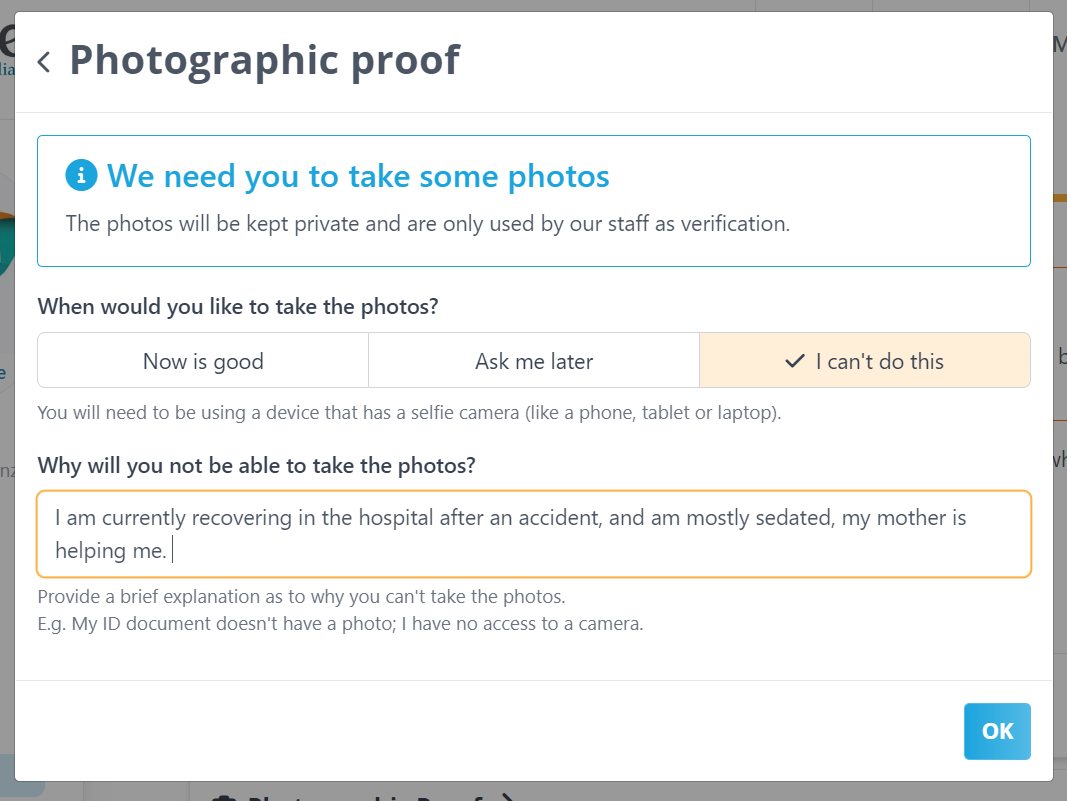 You will be asked to enter an explaination as to why it's not possible to take the photos. Someone in our team will review your request-for-an-exception and be in touch.