Once you have created a page the really important part begins - promoting your cause far and wide and regularly. This is the hard part, and it's really important to keep it up. Using the "Share" function on every Givealittle page makes it as easy at can be! The more people who visit your page, the more success you will have. Here are a few tips to get started:
Get the ball rolling with a few donations
Contact a few close friends and ask them to help you by being the first to donate and then then sharing your page - you need 3 donations from different email addresses to get donor validation for your page. Also ask them to share your page.
---
Share your page
There's a "Share" button on your page with lots of options.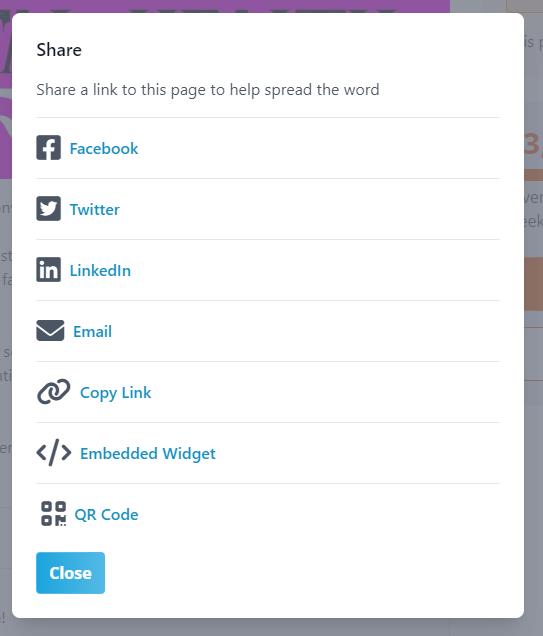 Send the page link to friends, family, supporters and colleagues asking them to support your efforts and share the page with their networks
Use social media sites such as Facebook and Twitter. Frequently post your page link on social media with updates on progress and thank you messages.
Share via email
Email might seem old-school, but it often provides more of a personal touch and can be a highly successful tool to spread the word about your page and to request support.
Rather than just a mass email to your entire address book, think about crafting messages that fit the audience - you probably don't use the same language when talking to your mates as you do with your Grandma!
The Share button on your page lets you send an email right from your page or you can grab the link to insert into your own message.
Also, consider including a link to your Givealittle page in your email signature
Share via social media
A huge amount of Givealittle page traffic is referred from social media sites, especially Facebook and Twitter.
On a mobile device, the "Share" button on your page links into the share function on you phone, giving you access to all you social media channels.
As soon as you have created your page you can start sharing it. But we suggest waiting till it has been moderated. Read more about Page Moderation and Donor Validation.
Don't just share your page once! Share it with regular updates on your fundraising progress and thank donors. Even if you can't 'tag' them in social media they may well be fans of your page and see your message.
For example, fundraiser Ben Walker used his Facebook Event page to communicate with his supporters and donors. We really loved how Ben thanked new donors every single day and it helped his fundraising too. The following is a screen shot of one of Ben's daily posts: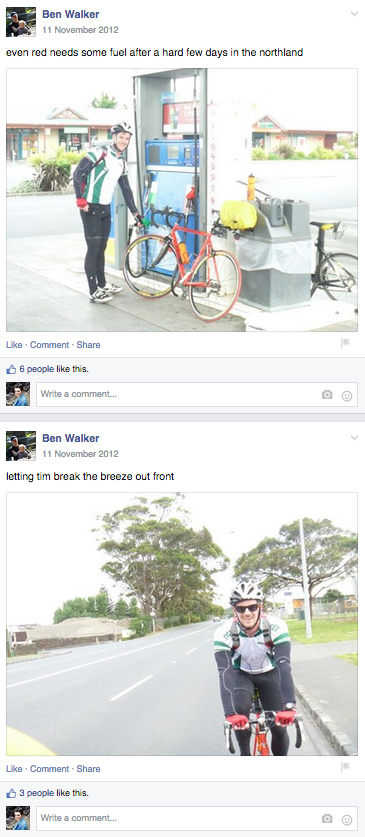 Ask your donors and supporters to also promote your pages via their social media channels. Sometimes people can't give you financial support but they can give you their voice, or email, Facebook, Twitter etc!
Check out this page for more tips on using social media.
---
Post Page Updates
Load relevant and engaging images and video in Page Updates on your page. Find out more here.
---
Use a Givealittle widget on your website
If you have one, add a donation widget to your own website or blog - find out more here. You can also ask supporters to do the same on their websites and blogs if they have one.
---
You can find more ideas in our Tips for Success section.