Thanks for your awesome generosity! Donating is a wonderful thing to do and can make you feel great. But getting 33% of your donation back against your taxes can feel pretty great too!
We know that it can be a real hassle to collect all your receipts and lodge them individually with IRD, so we've made it simple to get copies of all your eligible receipts from Givealittle in an annual PDF that can be uploaded to IRD with one grand total.
A lot of pages on Givealittle are for individuals or organisations that aren't tax eligible, so it's possible not every donation you make on Givealittle will qualify for a tax credit (we have a message on the donation screen to let you know when your donation will be eligible).
You can claim 33.33% of your donation back as a tax credit if:
You donated to an organisation that is registered with IRD as a qualifying entity
You donated more than $5
You donated within the last 4 tax years
---
How to request an Annual Tax Receipt
Click here: https://givealittle.co.nz/annualTaxReceipts
Enter your email address this must be the one you used to donate
Select the tax year(s) you'd like the receipts for > Get Receipts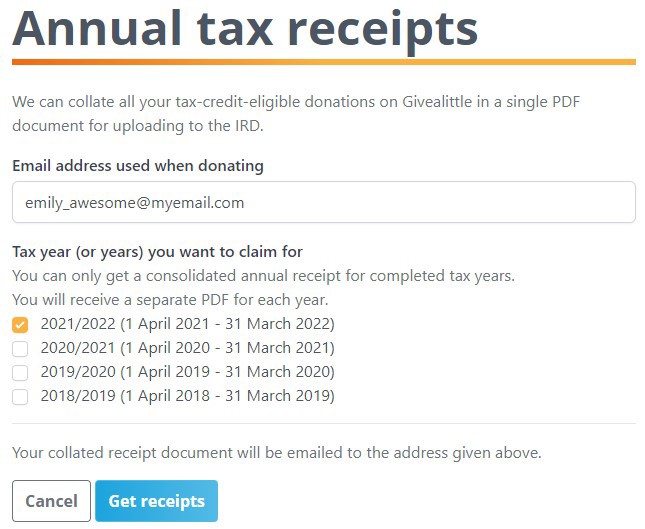 ---
Your receipts will be emailed to you
You will receive an email regardless of whether there are donations in that tax year(s) selected. The email will either tell you 
There are no eligible donations OR have a PDF attached with all the eligible receipts (so you only have to upload one file on the IRD website). 
The total amount of the receipts on the PDF and what you need to enter when filling in the IRD form.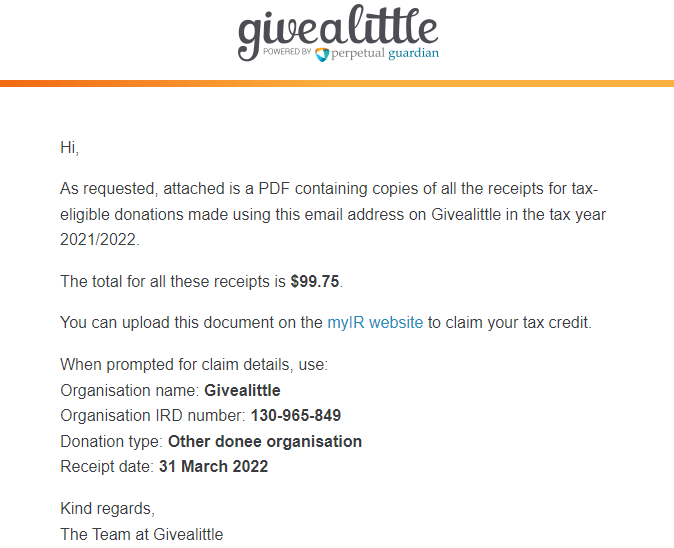 If you have been super-generous over the year, you might have more than 95 receipts to claim on. There is a limit on the file size that IRD accepts, so we will split large volumes of donations into separate PDF's with up to 95 receipts on each. You will receive separate emails for each PDF and they'll be labelled Part1, Part2, etc...