Give the gift of giving
Studies have shown that giving to others not only gives you warm fuzzy feelings but also has a positive impact on your mental health and physical wellbeing. And wouldn't it be great to gift those things to someone else?
We also know that giving gifts can be quite tricky, even when you know someone really well. What could this person want? For family, friends and colleagues alike, Givealittle vouchers make great gifts. They can be deeply personal to the receiver, simple for the giver and allow you both to share the joy of giving.
They come in a number of different designs so you can still feel like you're giving and receiving a gift. They look great printed if you'd like to give the gift in person. (Being an e-voucher means that the most important part of the voucher is the Voucher Number that's printed on it & included in the body of the email that gets sent, for ease of access).
Recipients can donate to any cause or charity of their choice on Givealittle.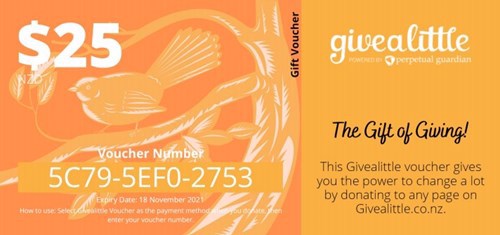 They also be great for business promotions or gifts.
a team that has celebrated a milestone
an employee who has gone that extra mile
a group that's achieved a great project together
a loyal customer base
a Christmas thankyou
---
Buy online with your credit card
You can purchase vouchers here.
You can purchase multiple vouchers at once, up to a value of $500 each ($10,000 maximum per order).
---
Sent to you, or emailed to the recipient
The voucher can be emailed to you, to be sent when you are ready or to the lucky recipient directly with a message from you.
The printable PDF with the voucher attached looks like this: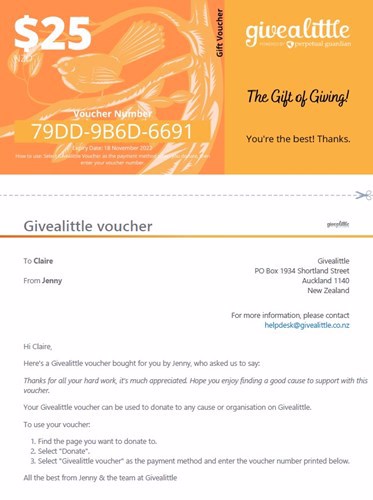 If you have some special requests - e.g. you'd like us to supply voucher codes that you can include in your own printed cards or distribute via email or SMS, please contact us.
---
How to use a Givealittle voucher
Simply explore Givealittle and find something to support. Click on the Donate button and select Voucher as the payment method - you will then be prompted to enter the code.
You don't have to use the full voucher in one go, and if you want to check the balance, just contact us.
You can also use a voucher to top up a Givealittle Wallet (registration required), that way you don't have to remember the voucher code and the funds can sit there until you're ready to donate from your Givealittle Wallet.