From here select Account > Regular Giving.

From the regular donation list (which will probably be blank), select Create a new plan.


Enter a plan name & select Payroll Giving as the payment method.
(Otherwise you will create a credit card plan and have to repeat the process again to set up your Payroll Giving.)


Specify if this is a one-off or a repeating one.
A one off donation will be processed once & will be triggered by the first payroll cycle after you have notified your employer of the donation (using the form provided by us when you have finished setting the donation up in Givealittle).
(To set up a one-off donation for a future pay cycle, opt for a repeating donation, but set a start and finish date that span a particular future payroll date.)


A repeating donation runs every payment cycle. You can set a start date (only payment cycles after this date will include the donation) and a finish date (the donation will not process after this date), or you can leave it as ongoing and it will only stop processing if you come back and edit the plan.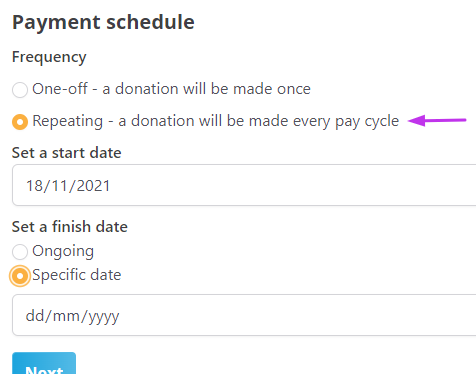 Select Next to go to the Donations screen. Then select Add donation.


Enter an amount & select a recipient by entering the charity name and selecting it from the list (the selected one is highlighted in yellow). Only registered charities can be donated to via Payroll Giving plans. , If your cause or organisation is not listed, contact us and we'll see what we can do (you can save your plan to complete later).


Select Add to return to the donation list screen. You can then add another organisation to your plan by selecting Add Donation again.


When you have added all your recipients to your plan, select Next.

The last step is to enter contact details for you and your organisation. When you are done, select Authorise.

You will receive an email from Givealittle with a Payroll Giving Request form, to send on to your employer so they know to send the funds to Givealittle when processing your pay. If you have Self Service Payroll, just use these details to load your Payroll Giving request.
Questions? Please contact us.